"x x x.
Here is the partial list of websites "carrying fake or unverified contents," based on the CBCP Pastoral Guidelines on the Use of Social Media issued on January 30:
Classified Trends - http://www.classifiedtrends.net/
Definitely Filipino - http://definitelyfilipino.com/
Duterte News Info - http://www.du30newsinfo.com/
Extreme Readers - http://www.extremereaders.com/
FilipiNews PH - http://www.filipinewsph.com/
Get Real Philippines - http://www.getrealphilippines.com/
Guard1an - https://theguard1an.com/
Kalye Pinoy - http://www.kalyepinoy.com/
Leak News PH - http://www.leaknewsph.com/
Media ni Duterte - http://www.dutertedefender.com/
Minda Nation - http://mindanation.com/
Netizens PH - http://www.netizensph.com/
News Media PH - http://www.newsmediaph.com/
News Titans - http://www.newstitans.com/
OKD2 - http://okd2.com/
Pinoy Freedom Wall - http://www.pinoyfreedomwall.com/
Pinoy Trending - http://pinoytrending.altervista.org/
Pinoy Trending News - http://pinoytrendingnews.net/
Pinoy Viral Issues - http://www.pinoyviralissues.net/
Pinoy Viral News - http://pinoyviralnews.com/
PinoyWorld - http://www.pinoyworld.net/
Public Trending - http://www.publictrending.net/
SocialNewsPH - http://www.socialnewsph.com/
TahoNews - http://www.tahonews.com/
TheVolatilian - http://www.thevolatilian.com/
Thinking Pinoy - http://www.thinkingpinoy.net/
TrendingBalita - http://www.trendingbalita.info/
Trending News Portal - http://www.trendingnewsportal.net.ph/
TrendTitan - http://trendtitan.com/
Of these websites, 5 links – Guard1an, Kalye Pinoy, Trending Balita, Trending News Portal, and TrendTitan – are either dead or under construction.
One website, OKD2, when visited, morphs into the website "Pinoy Pride" under the URL thephpride.blogspot.com.
Meanwhile, the website FilipiNews PH is not in the URL www.filipinewsph.com, as stated in the CBCP guidelines, but in the URL www.filipinewsph.net.
This reflects the characteristic of fake news websites, which can morph as needed or move to other URLs, depending on whether they have been tagged or blocked as sources of fake news.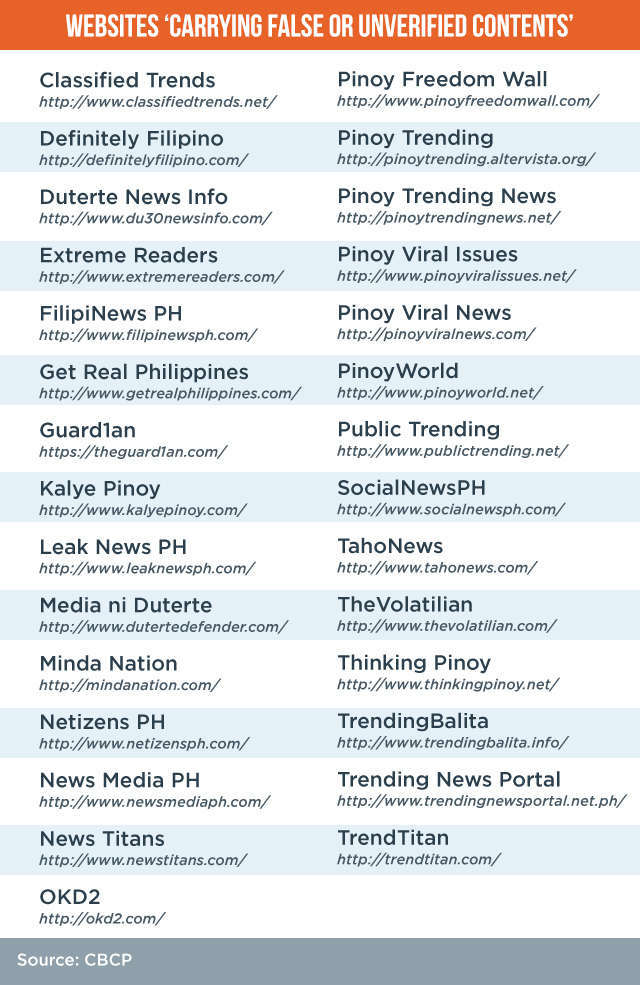 Beyond the CBCP's partial list, more fake news sites abound as opposing political camps in the Philippines spread their own propaganda.
Cracking down on fake news sites, the CBCP said in an unprecedented pastoral letter on Wednesday that it
is a sin
to spread fake news.
The CBCP said the Catholic faith obliges Catholics "to refrain from patronizing, popularizing, and supporting identified sources of 'alternative facts' or 'fake news.'"
Referring to fake news, Villegas pointed out on Wednesday: "Not only does this offend against the orientation of the human intellect to the truth. It is, more fundamentally, a sin against charity because it hinders persons from making right and sound decisions and induces them, instead, to make faulty ones!"
– Rappler.com
x x x."