"x x x.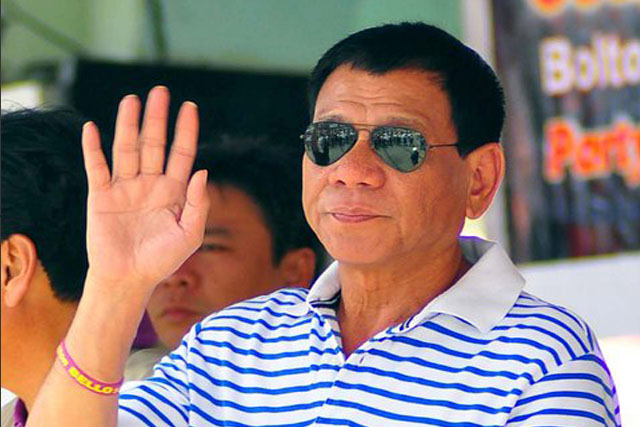 Presidential aspirant Davao City Mayor Rodrigo Duterte has a supporter in the person of Tagum City Mayor Rey "Chiong" Uy, tagged to be behind an armed paramilitary group behind the kilings in his city. Facebook/Rody Duterte
MANILA, Philippines — An international human rights group said a stalwart of the ruling Liberal Party who recently pronounced support for Davao City Mayor Rodrigo "Rody" Duterte is linked to a death squad.
The New York-based Human Rights Watch (HRW) revived its report on the Tagum Death squad killings following reports that former Tagum City Mayor Rey "Chiong" Uy swung from supporting LP to backing the presidential bid of Duterte.
In the group's May 21, 2014 report "Philippines: Death Squad Linked to Hundreds of Killings," it urged the Philippine government to conduct an investigation into the alleged role of Tagum City officials and police in a decade of murders of criminal suspects.
The group said the government should look into the alleged death squad patterned after the so-called Davao Death Squad linked to Duterte. It suggested that the armed Tagum group caused the 298 killings between January 2007 and March 2013 in Tagum City.
The organization also said that although the killings are attributed to the Tagum squad, no one has been prosecuted so far.President Benigno Aquino III, morever, has largely ignored the cry for justice for extrajudicial killings in the country.
"The Tagum Death Squad was initially a crime-fighting group patterned after the death squad in nearby Davao City, which propelled that city's mayor, Rodrigo Duterte, to national fame," the report said.
The HRW has, moreover, published a 103-page report "You Can Die Any Time: Death Squad Killings in Mindanao," on the Davao squad.
Uy described one of the HRW's report titled: "One Shot to the Head: Death Squad Killings in Tagum City, Philippines" as "very unfair."
The former mayor, seeking reelection in the 2016 polls, expressed on Saturday support for Duterte's presidential candidacy.
"We're throwing our support behind Duterte as it is a once-in-a-blue moon opportunity to have a Mindanaoan running for the presidency," Uy said in a previous report.
x x x."